Special Care Baby Units and Neonatal Intensive Care Units
The Professorial Neonatal Intensive Care Unit (NICU) and a Professorial Special Baby Unit (SBU) provides special care for care Neonates of the area. It functions as a center for Neonatal care in the Central Province of the country. This is fully equipped with modern facilities including Ventilation
Paediatric wards and the Intensive care Units
A one hundred and ten bedded Paediatric Ward, at Teaching Hospital Peradeniya, is run as a Professorial Paediatric Unit. This provides emergency care at the High Dependency Unit, together with non emergency care at Ward Four and Five for children from all parts of the country.
Other services
The Kandy branch of the Association of Parent's of Haemophiliac Patients under the guidance of Prof. ASB Wijekoon has also been established with regard to improving care given to these patients.
General Paediatric Clinics and Clinics for Subspecialties
Babies who are discharged from the wards are followed up at General Paediatric Clinics, together with out patients who come directly to the clinics from the hospital Out Patient Department. These clinics are conducted daily, except on Sundays.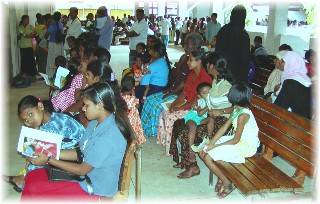 Special Paediatric Clinics for subspecialties are conducted by the respective consultants, providing additional care for special care seekers.
The "Well Baby Clinic" on Tuesdays, provides services with regard to Immunization, Assessment of Growth and Development and Nutrition, conducted by Prof. ASB Wijekoon, who is specially interested on this field.
A Clinic for Urinary Tract Infections (UTI) in Children is conducted every Thursdays from 8.00am to 12.00noon, by Dr. C K Abeysekara Consultant Paediatrician, with special interest on UTI in children, together with a clinic for Childhood Renal diseases conducted by Dr.AS Abeyagunawardena, who is trained specially in the management of Complicated Renal Problems in children.
Dr. L Jayasena, who has a special interest in Endocrine Diseases, conducts a clinic for children with Thyroid Disorders, on Thursdays from 09.00 am to 12.00noon.
A Clinic for Neonates, is conducted on Fridays, from 8.00 am to 12.00 noon by Dr. N Wickramasingha, a consultant with interest on Neonatology.
Another clinic for patients with Rheumatological disorders, is held on Saturdays.