Message from the Dean
---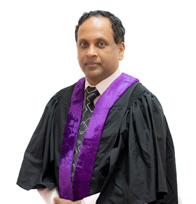 It is no secret that the education at medical schools world over challenges even the best and the brightest minds. As one of the premier medical schools in Sri Lanka, Faculty of Medicine, University of Peradeniya, is located in salubrious climes and offers a friendly and exciting environment for undergraduates to acquire knowledge and skill to become the future healers of the country.  

As the Dean I am proud to affirm that the success of our programme is significantly contributed by the dedication of each faculty members. Our academic staff are passionate about the work they do and make significant contributions to clinical medicine, health care and translational research. They are devoted to deliver high quality experiential learning to ensure that the end product is academically sound and has the right aptitudes to be a caring medical professional.   

In recent years, our school has become an even better place to pursue learning. We have been fortunate enough to get modernized infrastructure facilities. Our curriculum has undergone revision recently to provide early clinical exposure facilitating better integration. New academic partnerships and staff collaborations have been established thus ensuring our readiness to meet the challenges of the future.   

Our achievements in the recent past have been tremendous and are a tribute to the University and our alumni. We eagerly await each new batch with the intent of ensuring holistic learning that will gear our graduates to be compassionate doctors who will fulfill the needs and aspirations of the patients they treat.   

As such it is my pleasure to cordially invite those of you who are interested in expanding your horizons and enriching your careers to explore our faculty before you make your choice.  


Prof. Asiri Abeyagunawardena
Dean
Faculty of Medicine
University of Peradeniya
Sri Lanka 
(deanmed@pdn.ac.lk)